Elvis Tribute Artists
In addition to our own show as a dance band, AM/FM is privileged to work with several very talented "Elvis Tribute Artists". When schedules and venues permit, we are pleased to add the "live backup band sound" to these tributes to the King.
If you are an ETA looking for a first-class backup band (including vocals), we would be glad to discuss any opportunity to work together in the Eastern Ontario/Western Quebec area.
Click here to open a list of Elvis songs we are currently performing.
(We are also very willing to add a request not already on this list.)
We are currently working with: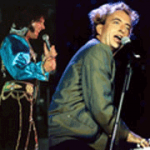 Michael John as (Elvis Presley-The KING) has over 25 years experience in the professional entertainment and Showbiz industry. He has toured Canada the U.S.A., and Internationally as one of the Top 4 Elvis Tribute Pro's on the Planet! Visit Micheal's web site at www.michaeljohnent.com
William Maurice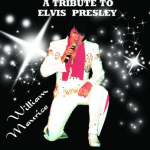 William has been performing his tribute to the King of Rock & Roll for over 40 years, and has appeared on stage with many of Elvis' people, such as D.J. Fontana, J.D. Sumner and the Stamps, Kathy Westmoreland, The Jordanaires, Charlie Hodge, The Sweet Inspirations and many more. Visit William's web site at www.williammaurice.com